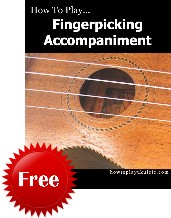 It's an exciting time to be part of the ukulele world. New people are coming to the ukulele all the time from a wide range of genres. Players are pushing the boundaries and expanding what the ukulele can do. But still, with a few honourable exceptions, it's still the same tired old instruction books that are being flogged. So, I've taken it on myself to write something new for people who want to improve their ukulele playing.
If you want to be first to get the news, sign up to my new mailing list. As well as getting updates, you'll get exclusive extracts and a introductory video course: How To Play Fingerpicking Accompaniment.
The course will be a series of six emails tips on using fingerpicking for accompaniment and a number of patterns to try out. You'll also get videos showing you exactly what to do.
To get all this, just fill in your email address here:
I do solemnly swear, by God and the King, that I won't spam you. The emails are delivered via iContact and you can read their strict anti-spam poicy here.
Cover photo: Runder